FMA presents THE FACTORY GIRLS at MASIK STUDIO
 "Be a part of the art, the happening ……"
TICKETS ON SALE NOW!!!!
EARLY BIRDÂ  $35
REGULAR $50
Buy Tickets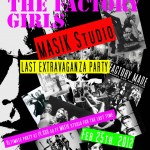 www.thefactorygirls.eventbrite.com
www.clubzone.com
www.clubvibes.com
or
Brooklyn Clothing
418 Davie Street Vancouver, BC V6B 2G3
(604) 683-2929
Febuary 25th , 2012 9:00 PM to Febuary 26th, 1:00 AM, 2012
FMA in association with Maharaj Media presents " The Factory Girls" – Inspired by infamous Andy Warhols' factory years and the art scene of the 1960's, immerse yourself in a series of interactive happenings, film, live music and performances throughout Masik's 14,000 sq ft studio on February 25TH 2012 www.fmaevents.ca — the last event in the studio before demolition and an opportunity to get a glimpse of what's to come from Masik when she reopens her new doors as MASIK: 'The Factory', opening March 2012.
"In the future everyone will be famous for fifteen minutes." Andy Warhol ……… on February 25th the 14,000 sq ft studio will be transformed to Warhol's "Silver Factory" his original NYC studio playground in the 60". He played host to most of his superstars and as his experiments in film continued he became more interested in the bohemian eccentrics attracted to the studio. Some of the most important superstars to emerge from the period 1962 to 1968.
Featuring :
Live performance with Pamela Masiks "Factory Girls"
"15 minutes of fame" live interactive
DJs and Live music performances
Live circus acts
Go Go dancers performance
Aerial hoop and Silk dancers
As we celebrate the closing of Masik Studios and the opening of a new chapter…in March 2012, "Masik: The Factory". The new home of Masik's most exclusive collections and the place to experience your "15 minutes of fame".
Partial proceeds going to benefit The Sarah McLachlan School of Music foundation www.sarahschoolofmusic.com
Masik Studio – 142 West 2nd Ave. Vancouver BC